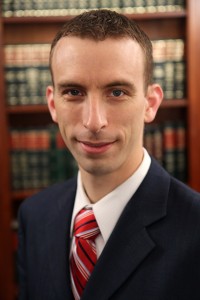 Gabriel (or Gabe) Zeller was born in Portland, Oregon. After numerous relocations, his family finally moved to North Carolina where they have resided ever since. Gabriel developed a love for North Carolina growing up, and extended that love to people from all parts of the world, especially after serving a two-year volunteer mission for The Church of Jesus Christ of Latter-day Saints in Manaus, Brazil. After marrying Alejandra Gómez, originally from Honduras, Gabriel's appreciation for people of other cultures and nations truly increased.
Undoubtedly, Gabriel's background informs and influences his law practice. He serves the people of the state he loves as well as people of all cultures and nations with respect, while also respecting the laws of North Carolina and US Immigration. He is proud to speak Portuguese and Spanish, which has allowed him to connect with and help more people.
Apart from his law practice, Gabriel loves to spend time playing soccer (as he has done so since he was 5), reading to his 4 children and making memories with his family. He serves in The Church of Jesus Christ of Latter-day Saints as a clerk.
Gabriel is happy to serve Rockingham County, the Triad, and all of North Carolina in the areas of Immigration Law, Domestic (Family) Law, Personal Injury Criminal Defense, and Traffic Law.
Servimos el Condado de Rockingham, el Triad y todo el Estado de Carolina del Norte. Llevamos casos de Inmigracion, Familia, Lesiones Personales, Defensa Criminal y Trafico.